Winter wonderland Lapland, Finland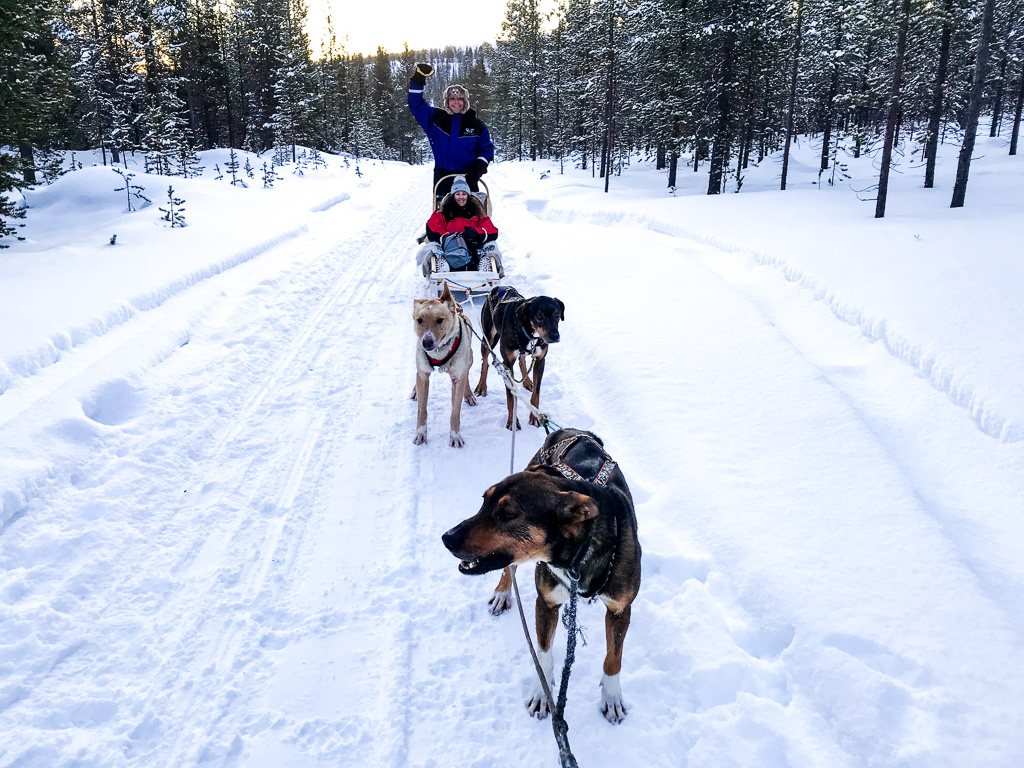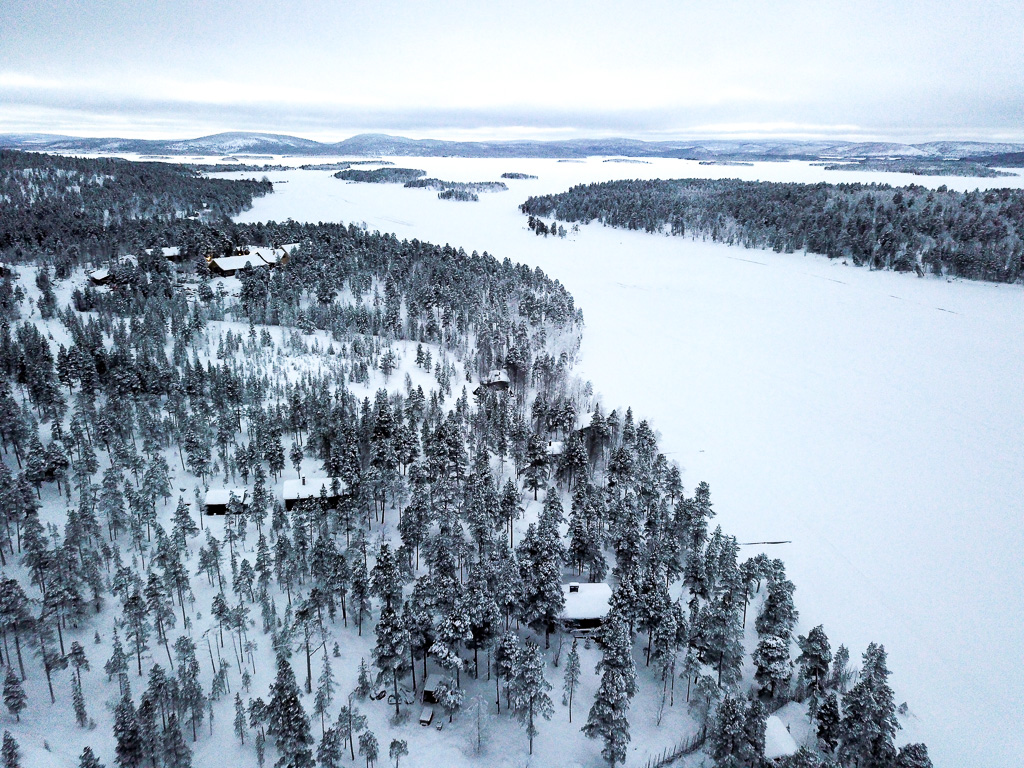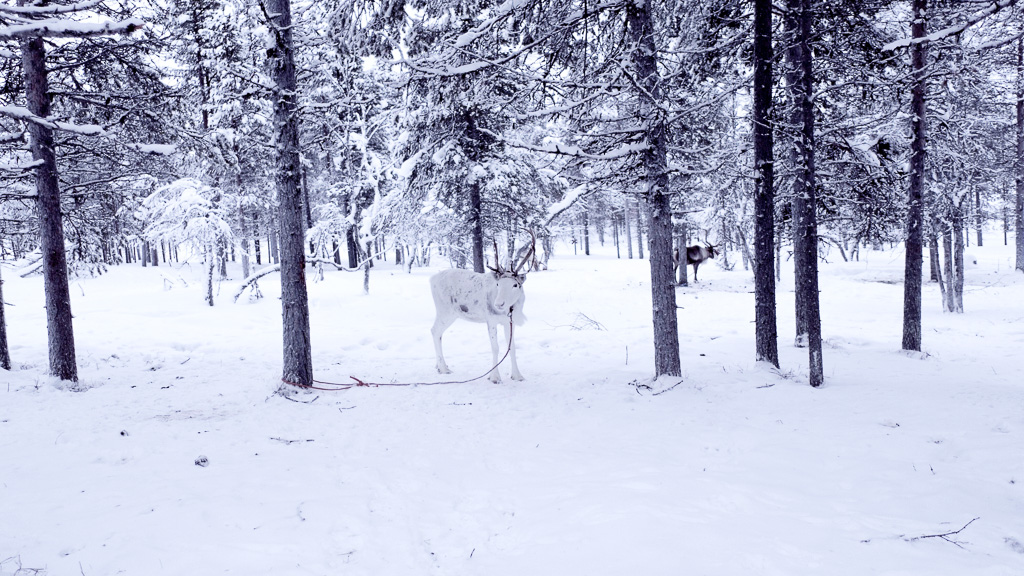 What you will experience in Finnish Lapland
Take a sleigh ride with the reindeers through the Winter Wonderland and capture the beautiful scenery of Lappish wilderness

Stay in a cosy glass igloo under the Northern Lights for a once-in-a-lifetime experience

Learn how to ice fish like a pro on a frozen lake

Enjoy a traditional Finnish sauna for relaxation and detox

Explore Lapland's magical night sky by going aurora hunting between March and September

Discover the vast cross-country skiing slopes of Lapland, where beginner and experienced skiers can take part in the most exciting sledging activities

Go on a fun Husky ride through Finland's picturesque snow-covered forests

Meet the real Santa Claus in his official hometown of Rovaniemi, or meet him in other less touristy resorts

Join Northern Europe's longest toboggan ride in Kaunispää summit

Head out to the fells with your snowshoes and take a walk through the deep snow trails

Enter Lapland's dreamy forests on a guided snowmobile tour

Beat the cold and enjoy a warm drink around a campfire

Learn how to capture the colourful and vibrant auroras by attending the very interesting Aurora Photography Workshop

Enjoy a unique three-course dinner menu around a frozen table in an ice restaurant
Our travel video about Lapland
Get some inspiration :)
Make sure to check out our comprehensive list of all the aurora glass cabins in Finland here
What to do in Finland
If you're dreaming of Lapland holidays but not sure where to go and what to do, don't worry as we're here to guide you. From a visit to an igloo glass hotel in an igloo village to taking Husky rides and even meeting the real Santa Claus Lapland certainly has it all! By spending one week in this beautiful country, you can enjoy your Lapland winter holiday to its fullest.
There are many tour operators who offer Northern Lights vacation packages and ready-made Santa trips to Lapland. Normally we would never recommend ready-made packages, however, for Finland it might make sense depending how early you book. The far north of Finland isn't a destination for budget airlines so if you have good organisational skills and plenty of time to spare, it would be better to plan the trip yourself. Keep in mind that last-minute bookings will only result in below average accommodations, which are not worth the money. If you book in advance, however, you can find some great tour packages that can include the following activities:
Husky safaris
Finland's snow-covered wilderness can easily be explored on a Husky safari. Make sure you wrap up warm before heading out to a Husky farm. Here you will learn how to control your wooden sledge and master the ride into the dense forests while enjoying the arctic nature. The average trail length of two-people Husky rides is 12 to 17km, depending on the weather conditions and the participants' skills.
Lapland Santa holidays
It is said that the real Santa Claus is from Lapland Finland. There are two places where you can visit Santa in Lapland. At the Arctic Circle in Rovaniemi, children and adults can visit the Santa Village Lapland in Finland. The original home of Santa is in Korvatunturi, however, Rovaniemi has been Santa's official hometown since 2010, where he can be visited every day of the year. Northern Lights Village is one of the accommodations that offers Santa day tours but you can also find many other hotels with such activity on offer. Santa's little helper, Elf, will greet you and your companions and be your guide for the day. You will be taken to Santa's secret cabin in a heated sledge ride through the forest. Many families who visit Lapland mainly plan to take their children to visit Santa in Rovaniemi. These Santa Claus trips attract more than 200,000 visitors from all over the world every year. Feel like a child again or watch the excitement on your child's face when you all come face-to-face with the real Santa in Lapland. Santa trips to the Arctic Circle can easily be done with bus number 8. It runs hourly from the centre of Rovaniemi, or alternatively, you can get a taxi as the distance is 8 kilometres. Not many people are aware of how touristy Rovaniemi until they get there. However, there are other less touristy and even more magical places to visit Santa, such as Saariselkä.
Reindeer sleigh rides
The local reindeer farm allows you to meet the reindeer herders who live there and get to know more about their lives. You can feed the reindeer and take part in sleigh rides. This activity offers great photo taking opportunities as you explore the wilderness. You can also experience reindeer sleigh rides in Santa's village. The 400 metre or 1 km rides can be enjoyed by guests of all ages and you can even drive the reindeer sleigh by yourself.
Aurora hunt
Between September and March, you can go Northern Lights chasing at night as the sky is clear and your chances of seeing aurora borealis are much higher. Keep in mind that the further north you go, the better chances you have of seeing the auroras. When the sky is clear and solar activity is strong, it's quite possible to spot the auroras in south of Finland. However, Lapland is the best location in Finland for seeing the Northern Lights. Just make sure you have your camera on hand.
Driving a Snowmobile
Your trips to Lapland aren't complete until you've experienced the most classic winter activity. Snowmobiling in Lapland will open a world of white landscapes right before your eyes. This exciting activity is a cross between jet skiing and motorcycling - but you may get hooked once you try it. The snowmobile safaris can take 2 to 6 hours and are suitable for people of all ages. All the safaris are led by experienced guides.
Ice fishing in Lapland Finland
Ice fishing tours will take you to the frozen lakes that can be reached by snowmobiles. At these peaceful surroundings, you can try your luck with ice fishing by breaking open the ice just like the Eskimos do in the North Pole. During this tour, you'll be taught about Lapland's forest animals and basic survival skills before learning how to ice fish on a frozen lake. Your guide will show you how to drill a 1 metre thick hole in ice before using some clever tactics to become a successful ice fisher. This activity can be enjoyed with a warm drink in the company of your friends or loved ones.
Cross-country skiing
Cross-country skiing is where skiers solely depend on their own locomotion rather than use ski lifts to ski across the terrain. This activity can be done anywhere in Finland as all you need is snow. What's more, not only you can ski on slopes, but also on frozen lakes like Lake Inari and in nature. Lapland has many cross-country skiing slopes, but perhaps the best one is in Ylläs. With a total of 330 km of snow trails, the fells are easily reachable and perfect for beginner skiers. There are many routes to choose from and you can change these routes as many times as you like. Yllas has many prepared slopes as well as Saariselkä, where the skiing season lasts from October to May (thanks to artificial snow). There are 200 kilometres of cross-country ski tracks available in this resort.
Snowshoeing in the fells
Snowshoeing in the fells is a fun way of discovering Lapland's nature. You will be accompanied with experienced guides who will walk you through the deep snow trails. Ylläs is one of the best places for snowshoeing as it boasts 50 km of routes to keep you fit and happy. There is no prior experience necessary as all you need is just some determination and a camera to capture the stunning nature around you.
Finish sauna under the Northern Lights
The idea of a Finnish sauna is to heat the rocks in a stove to such high temperatures that the casted water turns into steam. The idea of a Finnish sauna is to heat the rocks in a stove to such high temperatures that the water turns into steam. Most traditional saunas in Finland are heated with wood and you sit on wooden benches that are 1.5 metres above the floor. Afterwards, you can wash yourself in the shower room or take a refreshing dip in an ice hole.
The Finns do sauna differently than most other people
When most of us think of a sauna, we tend to steam for around 5-15 minutes before cooling off outside in the snow or take a cold shower. After a half an hour refreshment break, we will repeat the process 2 or 3 more times. However, the Finns do sauna by steaming for around 10 minutes (they drink lots of herbal teas in between) then go outside and jump into the frozen lake holes or in rivers. Bear in mind that it can get extremely cold and almost painful to bathe in the freezing temperatures. Afterwards, they will return to the sauna room without a break and do 4 to 6 more rounds, which is extreme. What's more, the Finns go to mixed saunas in their swim suits – not naked like us Germans! :)
Toboggan
In Finnish Lapland, a ride through the longest toboggan in Northern Europe (1.2 kilometres long) starts from the Kaunispää summit. This ride is located in Saariselkä and is Finland's most exciting toboggan run on a vertical drop of 130 metres. You can borrow the toboggan gear from the local hotels in the resort and there are some free toboggans to use at the bottom of the hill. If you decide to stay in Saariselkä, it is worth checking Mount Kaunispaa, where you can go skiing and sledging. The best thing about this place is the amazing photos you can take from the moon as it rises between 5 and 6 pm.
Camp fires
Most guided activities include a camp fire to keep warm. This is when the guide cooks something like sausages or salmon and offer you hot berry juice. This juice is a typical Finnish drink and since the temperatures get as low as minus 30 degrees Celsius, you will need a warm drink that's not going to put pressure on your bladder - unlike tea or coffee. After all, there is no toilet outside and it's not exactly an easy task taking off all those layers of clothing.
Tip for frozen feet: If you experience frozen feet whilst camping, try and take off your shoes and warm them up in front of the fire. Make sure you place your shoes close to the fire to keep them warm. Every so often during your break time you should warm up your feet in front of the fire as it's not just the low temperatures that cause your feet to freeze, but also the cold and snowy ground on which you walk.
Ice bar / Restaurant
In Lapland, you can eat dinner in an exquisite ice restaurant that comes complete with frozen glasses and ice table. The stunning ice bar in Rovaniemi serves all kinds of alcoholic and non-alcoholic drinks and is a must to visit.
Accommodation possibilities in Lapland
Glass Igloo / glass-roof aurora cabins Lapland
The Lapland glass igloo cabin is a romantic type of accommodation that lets the guests enjoy the Arctic landscape and see aurora borealis. These Lapland log cabins have been built using insulated glass. It's like sleeping in the middle of nature, but inside the igloo, you will feel warm and cosy. Most have a small WC and a shower, but a typical luxury Finland igloo might also have a kitchenette, private sauna, and bathroom. You can stay at an igloo hotel just about anywhere in Lapland. We made the effort to search for all of them and have listed them here.
Most igloos have a kettle with tea, cups, two chairs and a small table, and a mini-fridge for drinks and snacks.
Although the glass igloo Finland price is high, you may think that you are paying for luxury accommodation, however, bear in mind that you are paying for the experience to see the Northern Lights, not luxury. Some igloos have limited facilities but are cheaper and provide amazing views of the sky and countryside.
| | |
| --- | --- |
| Pros of staying in a glass igloo | Cons of staying in a glass igloo |
| Glass Igloos in Finland provide the best opportunities to take pictures of the Northern Lights as you can also sleep under the Northern Lights. | The igloos are expensive. The price for two nights can be as high as one week's stay in a cottage in Finland just a few kilometres away from the igloo hotels in Kakslauttanen for example. |
| | There is no guarantee that you will see the Northern Lights during your stay as this depends on the time you are travelling to Finland. During Lapland Christmas period, the visibility is poor as the sky is often cloudy and foggy. During end of February/March, the chances of seeing the aurora lights are much greater. |
| | Most people only stay in a glass igloo for 1 night because of the high price so the chances of seeing the Northern Lights are even slimmer. |
| | These types of accommodations are often really touristy and a rip off. You can have a much nicer experience staying in a cosy log cabin with its own sauna. |
Log cabins or cottages Lapland
Another option is to book your own cottage. This is what Finns do when they come on holiday to Lapland. Most of the Lapland cottages are located in or around ski resorts so if you wish to stay in one of the resorts, all you need to do is book a cottage that is either close to ski slopes or located in a village.
The pros of staying in a cottage
The cons of staying in a cottage

It is really romantic to stay in a cottage with its own sauna

If you are travelling with a group of people, renting your own cottage is a good idea.

A cottage gives you more comfort and space when compared with glass igloos.

You will have to provide your own food.

All the activities have to be organised by yourself so you'll need to find tour operators for the activities you want to take part in.

You will need to hire a car as most of the cabins are in remote locations. You will need to stock up on food supplies and drive to where the activities will take place.
Wilderness lodges Lapland
Wilderness lodges are a combination of log cabin and hotel room. You can stay in these lodges and still enjoy all the comforts of a hotel, including breakfast, lunch, and dinner. Most lodges also offer activities to take part in.
The pros of staying in a wilderness lodge
The cons of staying in a wilderness lodge

It has the same benefits of a hotel, such as food and activities.

These rooms allow you to truly experience the traditional Finnish lodges in the middle of Lappish nature.

If you stay in a large wilderness resort, it can get very crowded with tourists.

Some lodges look dated like old school buildings.
Lapland Hotels
Although there are lots of hotels in Lapland, they are not the best choice as most are average quality. It can be difficult to find a luxury hotel so it's better to stay in a log cabin or glass igloo rather than in a hotel.
The pros of staying in a hotel
The cons of staying in a hotel

Hotels can have modern facilities with food and activities.

If you're travelling on your own or with your partner, a short stay in a hotel is ideal.

Probably the best option when traveling on budget.

Most hotels are below average and less than 4 stars.

Low quality and high prices.

Most of the hotels are located in small town and villages, not in the middle of nature.

Too much artificial light is not good for aurora visibility.
WHERE WE STAYED
Northern Lights village Saariselkä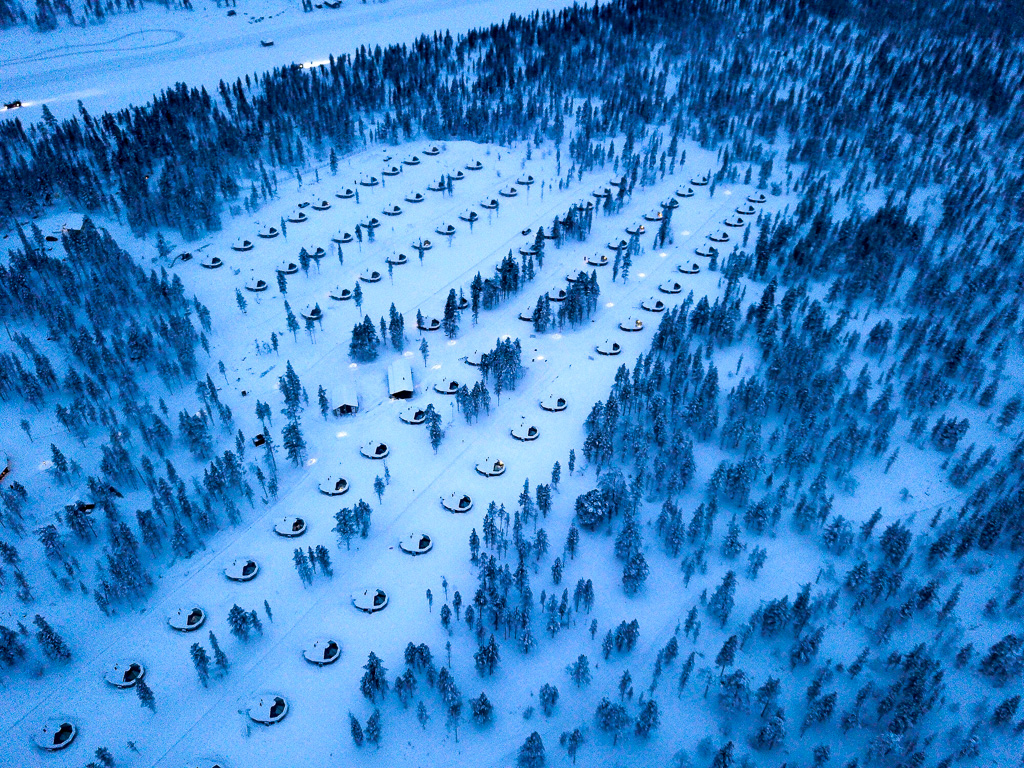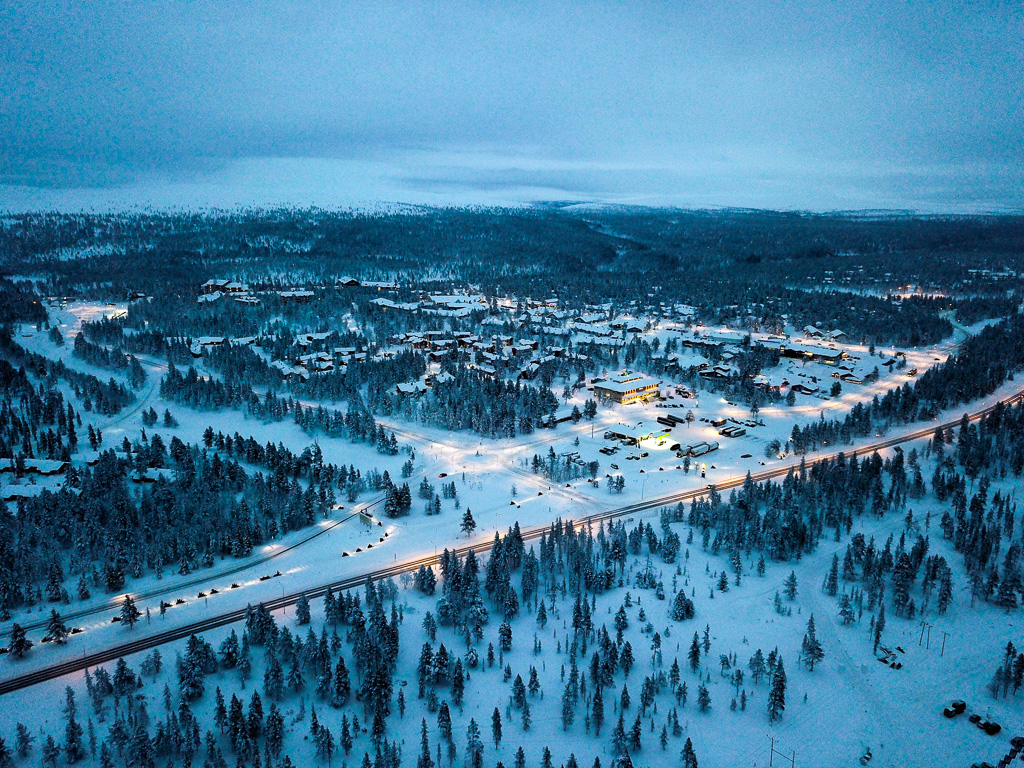 We spent our Northern Lights vacation in a glass-roofed cabin in the village of Saariselkä. This place would allowed us to see aurora borealis in all its glory - but we didn't. The Northern Lights Village features a bar, free Wi-Fi and a restaurant. It is located in a secluded spot close to wilderness and away from the busy resorts. However, you don't necessarily have to stay at this hotel as there are many other glass igloo options throughout Lapland.
What we liked
An interesting Aurora photography workshop is offered

The guides are very kind and knowledgeable.

All kinds of activities like camping, hunting, and ice fishing are on offer.

The cabins are nice and well equipped
What we didn't like
They built 80(!) cabins within 1 year, but were unable to finish 1 sauna in one year – goes to show what brings in the money and what doesn't.

Big tour bus for aurora hunting

Feels like a tourist rip off, really expensive for what you get

The restaurant feels like a youth hostel with small buffet - a total disappointment when paying €600 a night

They equip you well with clothes, such as winter shoes, overalls/jumpers, gloves. But unfortunately, the accessories are second hand and quite smelly.
Wilderness Boutique Hotel Nangu
The Wilderness Hotel Nangu is located on the southern shore of Inari Lake. Some say this hotel is situated in a perfect place to see the Northern Lights. During the winter season, the resort offers panoramic views of the lake and private saunas. The hotel's restaurant has a cosy interior, where guests can enjoy the delicious Lappish delicacies.
Note: They don't have cabins with glass roofs in Nangu, however, they have another hotel called Wilderness Hotel Inari with glass roofs, where you can stay for 1-2 nights, if you want to.
What we liked
This newly renovated hotel opened its doors in Christmas 2017 and we were happy to be the first guests

Our experience was great, the staff was very kind and welcoming

Some of the rooms were not completely finished as some details were missing. They had obviously ran out of time, but it was not a problem for us. Once you let one of the staff members know about any issues, they will fix it immediately.

The location itself is wonderful, directly in front of Lake Inari, hence the reason many tours are offered to the frozen Lake. The place is totally secluded in the middle of the nature, (which is great for the aurora visibility).

They have an authentic wood-fired Finnish sauna which we could use for free. The sauna is heated with firewood the whole morning. In addition, they bring fresh, cold water from Lake Inari to cool you down - that was a unique experience!

Restaurant and the food were OK, Buffet for dinner and menu for lunch. Nothing special though.

It is a hotel for adults, which is nice when you travel without kids.

They fully equip you with clothes by giving you winter shoes, overalls/jumpers, gloves, etc.

They offer all kinds of activities.
When we arrived at the hotel, it was the perfect accommodation, however I have the feeling that this will change in the future. If you compare this hotel to similar ones in the region, all of them started out being small and cosy, but eventually expanded massively within 1 year. Of course this will bring the owners more money, as they intend to earn good money with their hotels. But then the whole experience loses its charm and feels like a mass accommodation.
Tips on how to experience the best Lapland holidays
Experience sleeping in a glass roof igloo under Northern Lights

Go on a self-driven Husky safari!!! Some are not self-driven, which makes no sense, because this is the whole idea of having fun on them.

Beware of mass accommodations that are popular with Chinese people and totally expensive.

Rent a car to be more flexible and take yourself on the tours of Aurora hunts, (i.e at the Russian border). The advantages of touring yourself? You can stay as long as you want, you can go back and forth whenever you want and no other tourists will be in your pictures!

Watch out for tours like snowshoeing: Is it really in the deep snow or just on the road? Sometimes it is better and cheaper to only rent the gear and go into the woods yourself.

Reindeer sleigh rides: there are tours where you can ride on the sleigh yourself or get a guide to control the reindeer. However, it is much more fun to ride on the sleigh yourself.

You need to check the tour times with the organisers. It would be annoying if you go back to your hotel half an hour early when the auroras are visible.

Start with breakfast only as you can always upgrade to half or full board. Many Lapland tours do include lunch. Although it's a good accommodation, the buffet they serve is often nothing special. However, there are great restaurants that serve some typical Lappish meat or fish dishes like elk, reindeer, salmon or Arctic char.

It might make sense to book a private guide for tours to avoid waiting around, going home earlier because someone is cold, or different physical conditions that people may experience plus you can choose where you want to go. A personal guide is usually not as expensive but has a lot of advantages. This is especially recommended for riding a snowmobile as the snowmobiles you get are often limited in speed to about 30km/h, but they can go 100 or 120km/h. They won't reduce the speed limit in a group, but they would in private tours. If you take part in one of the sports activities like cross country skiing, or snowshoeing, a private guide can adapt your sports ability and you will get much more out of it and learn much more efficiently.

When booking your aurora tours, you need to choose a date with the tour operator. It depends on the weather conditions like the visibility, clouds, KP index etc. This means, they will go on tours with you even when it is snowing, cloudy, or foggy (which means that you won't see the auroras). Tours will always take place although no guarantee of seeing any auroras. You can go aurora hunting with your own car so you get to choose when you want to go, i.e. when the KP level or weather is suitable.

Aurora KP Index northern Lapland is 2. There are several apps and websites showing the live index and forecast where you can check the probability to see the lights.

If you love the outdoors and cross country skiing you should check out the Finnish open hut system, where the Finnish government has provided free overnight huts. Open huts are in the wilderness and they always have free firewood in stock.

Pick flowerless green plants from the trees – they are a kind of moss which grow on Finish trees and reindeers love it.
Tips on booking your Lapland hotels and holidays to see the Northern Lights
Book your Lapland tours nice and early! Getting the best accommodations is only possible if you book in advance.

Always book the tours via email or call and ask if something is free. Oftentimes, the online booking system says they are fully booked, but the customer sales team can find you the available tours. Around mid-November every hour of the day counts, which means that the online inquiries are often not answered immediately, but a phone call can make a difference.

When booking an accommodation, make sure that they offer all the Lapland activities such as husky and reindeer tours, ice fishing, snowmobile tours, etc. This saves considerable time since there is no access and planning needed. Good hotels always offer these tours so you do not have to worry about anything and just enjoy them.

Make sure that there is also a sauna, because at -30 degrees Celsius there is nothing more pleasant than a hot sauna after an eventful day in nature. What's more, it is definitely a typical Finnish experience.

Again, make sure you book an accommodation that offers overalls, jackets, gloves, boots, etc. The good accommodations, as well as the tour organisers usually offer all the accessories, so you do not have to buy the whole package. Aside from the price, you would have to take a second suitcase for all the equipment and accessories that will most likely not be used so quickly again.
How to capture the Northern lights
Adjusting camera settings for taking pictures of the Northern Lights
Photo tips: Check the correct aurora settings, because there is nothing more annoying than not being able to take good shots and to waste time with camera setting attempts. Some accommodations even offer a photography course specially for the auroras! Of course, we have also included the most important camera settings for you:
ISO 1600 and 1 second if there is no-one in front of you

ISO 3600 with people

Always adjust the settings for less than 5 seconds with full moon

Never use zoom!

All the settings need to be manual

No Auto Focus

Use infinity focus

F3,6 or smaller

No Auto white balance! Adjust to Light bulb white balance

Put your camera on a tripod on 2 seconds self-timer. Don't overdo it though, otherwise battery will run out fast.
Advanced Aurora Camera hacks
Use a water-proof bag for your camera if it's frozen. When it starts melting, the camera gets wet. The temperature does need more time to go up in the water-proof bag, hence, you can stop the melting process until you can bring the camera to a warm place where you can dry it properly.

Turn the camera display off, otherwise the battery will run out fast and the lens cannot focus on aurora as they need to adjust to darkness again and again.

If you want to take a picture with people in front of the aurora, lighten up their faces (and only their faces) with a torch. Otherwise their faces will be dark. But only hold the light source at their faces for a very short time, otherwise it's overexposed. For example, 10 sec. exposure time with 1 sec. light, or 1 sec. exposure time with 1/10 sec. light.

If you are in Northern Lapland (KP2) and the KP level is KP4, the auroras are dancing and more intense with colors. The auroras are "everywhere". This is when you need a bigger ISO number and less seconds for light exposure.

Sometimes artificial lighting helps if there is no moonlight and it is too dark, e.g. use the car lights or house lights.

However, if the light source is too bright, it's not good for the photo, so you should seek shelter behind a tree or rock for the best picture quality.

Rivers are great for reflection shots because they don't freeze in winter. Lakes, however, do freeze.
What to wear in Finland in winter? Thermal clothing for extreme cold
Here is our list what you should wear
The Base layer - First Layer
Merino-wool thermal underwear. There are different brands, we used Woolpower from Sweden and were really satisfied.
They have different numbers indicating the thickness, and the thickest is 400 or 600.
Depending on your sensibility, and activity, we would recommend to wear either one 400 as a base layer. Or one 200 plus one 400 on top as base layers.
By wearing merino wool underwaer directly against your skin you'll benefit most, so do not wear something different as a first layer!
The Mid Layer - Second Layer
1-2 thick sweaters
The Outer Layer - Third Layer
Thermal coveralls: most accommodations provide you these thermal coveralls. If it is really cold, we recommend to take a size bigger and to wear your normal winter jacket underneath the thermal coverall.
What you need furthermore
warm pair of mittens, no gloves, why? Body heat! When fingers are bundled together, they are better able to generate heat using one another

hat

2-3 pair of socks, use merino socks

scarf for your neck and to cover your face

snow boots: again, most accommodations provide snow boots. My friend bought snow boots from SOREL, a Canadian brand. They are made for -40° Fahrenheit / -40° Celsius.
FAQs
Is Finland in Europe?
Yes. Lapland is situated in the northernmost region of Finland and surrounded by Sweden, Russia, Norway, and the Baltic Sea. Suomi Finland is known by is actually the Finnish name for this country.
Driving a car in winter in Finland?
Is there a clean and affordable hotel under Northern Lights?
Not really, they are all somewhat expensive.
Some of the best Lapland hotels and cabins include Lapland Igloo Hotel, Northern Lights Igloo Hotel, Bubble Hotel, and Hotel Kakslauttanen. However, all these hotels are expensive so what most people do is spend just one or two nights in a glass igloo and the rest of their stay in a hotel or cottage.
Where is an igloo hotel located?
Glass igloos are located all over Finnish Lapland. We have listed them all for you, see link, which is coming soon!
What are the best places to visit in Finland?
Obviously the Arctic Circle's Lapland is the most famous and mysterious destination to explore in Finland, but if you have time to travel to other cities, Tampere, Porvoo, and Riisitunturi forests also offer many activities like boat cruising, hiking, and snowboarding.
What are the Northern Lights?
The colourful lights of the aurora are in actual fact the sun's electrically charged particles that collide with one another. As soon as they enter the earth's atmosphere in the southern and northern hemispheres, their most commonly pale green, blue, yellow, and pink colours display themselves in the sky. These aurora lights appear in the forms of patchy clouds, shooting rays, or even arcs.
Where is Finland on world map?
The north European country of Finland covers approximately 33,515 square kilometres of land and around 35,000 kilometres of water. It is the 65th largest country in the world with Helsinki as its capital city.
Why is Lapland so expensive?
Finland is the fourth most expensive country in the European Union just behind Switzerland, Denmark, and Norway. Holiday tour packages are expensive but if you are flexible about when you want to visit Finland, you might save some money.
Can I book Lapland myself to save money?
Yes, if you're willing to book tours, hotels, and flights yourself, then it is possible to save money. However; it won't be cheap.
I want to fly to Lapland Finland, How far is it from UK?
You can fly from UK airports to Helsinki (2 hours and 50 minutes) and then get a connection flight to Rovaniemi.
Can I take day trips to Lapland and explore it in a day?
You will need at least 5 days to spend in Lapland, and even longer to see the magical aurora borealis. Contrary to popular belief, the Northern Lights cannot be seen every evening. We spent 1 week in Lapland and only saw the Northern Lights in January once. To get the most out of Finland, it is best to spend 1 day in Helsinki, get a connection flight and spend around 2 days in a glass igloo before spending a further 3 days in a Finnish log cabin. So all in all, a total of 7 days is recommended.
How do I reach Lapland?
The easiest way to visit Lapland is to fly to Helsinki Airport before getting a connection flight to Rovaniemi Airport, Kittilä Airport, or Ivalo Airport. There are plenty of igloos located nearby, including Northern Lights Village Saariselka and Kakslauttanen glass igloo.
What do I wear in Lapland?
During the winter season, Lapland gets as cold as -30 degrees Celsius so you must wear warm clothes. There are plenty of outdoor clothing shops that can help you choose the most appropriate outfit. We chose thermal wool jumpers but make sure you buy the 400 model as the other versions won't keep you warm. Try to buy tight-fitting clothes because they tend to loosen after a while due to the wool material.
What is the best time to see Northern Lights?
If you want to see the Northern Lights in December, you might get disappointed as the sky is often cloudy. In fact, the best time to stay in an aurora borealis igloo is not during winter. You will have a better chance of seeing Northern Lights in March because the sky is usually clear.
Where can you see the Northern Lights?
The Northern Lights are roughly visible 150 nights a year. In Rovaniemi, the skies tend to be clearer in autumn and nights are darker than in winter. But the further north you go, the better. You should always check the KP index first. By using this scale, it will be easier to determine the best KP number for seeing the auroras where you are. It is also better to be away from artificial human light.
Can I ski in the Finnish Lapland?
There are 75 ski resorts in Finland, which are mostly located next to villages and towns. The main ones are situated in the fells of Lapland. The 'Big Four' in Lapland boast slopes with lengths of up to 3 kilometres.
What is Lapland's currency?
Euro.
Where is the best Lapland resort to visit?
Lapland offers lots of cosy log cabins for getting a good view of the wilderness and auroras. In Kakslauttanen Arctic Resort, you can get stay at an ice hotel and feel warm in a very cold place. This is perhaps the best resort to visit as you will get an unobstructed view of the Northern Lights.
Which Lapland trip is the best?
Santa Claus trips to Lapland will definitely put a smile on your little ones' faces, especially in Christmas. This is the perfect time to hand deliver your wish-lists to Santa's Grotto and get into the festive spirit.
How much are Lapland holidays?
A one-week trip to visit Santa in Lapland including a private visit starts from £1,645 per adult or around €1,800 per adult.
How cold is Lapland in December?
Temperatures tend to average around -4°C to -30°C in December.
How does Lapland celebrate Christmas?
In Lapland, people start formally celebrating Christmas from December 13th, (St. Lucia Day) by lighting lots of candles in every Finnish town. On Christmas Eve, most people visit a Finnish sauna and many families visit their deceased loved ones at the cemeteries. Christmas dinner is served between 5 and 7 in the evening and the traditional dinner includes oven-baked ham and beetroot salad. The Finns say that Santa Claus doesn't have to travel far to deliver his presents as he lives in the northern part of Finland.
Why is Lapland always dark?
While it is true that the sun doesn't make much of an appearance during winter in Lapland, it doesn't mean that all the resorts are always dark. This period of darkness usually starts from December and lasts into January due to the winter equinox approaching from the North Pole. But the pure white snow does a great job of reflecting light on the slopes and the best thing about the lack of daylight is that you get to see the Northern Lights.
When does it snow in Lapland?
There is almost always snow during January and February in eastern and northern parts of Finland. Helsinki may not get as much snow, but you are guaranteed for up to a metre of snow in Lapland, where you can go skiing on the vast slopes. In northern Finland, the snow season starts from November and lasts until May.
Related Posts